Following hot on the heels of the initial release of Dorico for iPad less than two weeks ago, we're pleased to announce that an initial update to version 1.1 is now available in the App Store. You may have heard my most recent appearance on the Scoring Notes podcast this past weekend in which the biggest news about this update was revealed, but in case you did not, here it is: we have removed the limit on the number of players you can have in a project and edit it. Read on for more information about this change, and other improvements included in this update.
Goodbye player limit
To recap: Dorico for iPad is available for free download from the App Store. You can create projects for one or two players for free, and if you choose to sign in with your registered Steinberg ID email address that increases to four players. Projects with more than four players open read-only: you can play them back and print them, but you can't make any changes to the music itself. If you choose to buy the optional in-app purchase subscription, previously you were limited to projects with a maximum of 12 players: now, there is no player limit. This means that you can open and edit projects with any number of players, subject to the capabilities of your iPad.
Since the podcast was released, some users have expressed surprise, or even dismay, that we should have made a change in this area so quickly, wondering why we did not release the software with no player limit in the first place. Others have suggested that we have been bounced into making this change by the coincidental release of a different, purple-tinted music notation app that appeared on the App Store the day after Dorico for iPad. The decision was certainly not prompted by the capabilities of that other app – it's remarkable that so much functionality should be missing and such a poor user experience should be delivered by doing "much more than a simple port from the desktop version." It was abundantly clear even on day one which of the two provides a more complete, useful and powerful experience.
No, what this change comes down to, put simply, is listening to feedback from our users.
During development, our main goal with Dorico for iPad was to expand Dorico's audience: we wanted to put the unique, powerful musical tools that Dorico provides into the hands of a whole new set of musicians, who may or may not have any experience with or indeed even awareness of Dorico for macOS and Windows. We want to provide a complete, end-to-end app that allows you to take a project from conception to completion within the iPad app, without needing additional, costly rented software running on a separate macOS or Windows computer.
We were focused less on the utility of the app for existing users of Dorico for macOS and Windows, many of whom already run the software on portable devices like MacBooks, Microsoft Surfaces, or so-called "convertible" Windows laptops. Our assumption was that the majority of our existing Dorico users would not necessarily have a particularly strong interest in the iPad version because it is on the whole closer in capability, at least to begin with, to Dorico Elements than to the full Dorico Pro application that most of them are already using.
Almost all of the users who tested Dorico for iPad for us prior to its release were existing Dorico users. Of course we expected them to give us the feedback that the limit of 12 players made the app less useful for them than it would otherwise be, and indeed they told us. But we were nevertheless surprised at the sheer volume of feedback we received from our existing users in the initial hours and days following the app's release about this single issue.
We took the time to reflect on this feedback over that first weekend, and when we came together to discuss it again on Monday, it seemed clear that we should take action, and if we were going to take action, then we should do so as soon as possible, particularly since those users who have already purchased an in-app purchase subscription would then be able to benefit from the full value of their subscription payment for the greatest possible proportion of their subscription period.
So the good news is that if you are already a subscriber, after you install the Dorico for iPad 1.1 update, you will find the limit on the number of players has been removed. And if you've been on the fence about trying out the subscription, now's a great time to give it a whirl. You'll also benefit from a number of other fixes and improvements we've been able to take care of over the last 10 days or so, too.
Sidebar: I should add, of course, that the other feedback we have heard a lot since Dorico for iPad was released concerns the use of subscription pricing for Dorico for iPad. At the moment, we continue to believe that a low-cost, optional subscription is the best way to balance the competing priorities of making it frictionless to try the app, simple for us to be able to deliver fixes and improvements quickly to all users (as we are doing today, with an update that brings nearly 50 improvements, which benefit users both with and without subscription), and possible for us to recoup some of the considerable expense that goes into developing powerful, professional software for this platform. We know that some users would prefer to have the option of a kind of one-off "lifetime" payment to permanently unlock the subscription, and we are not ruling this out, but it is very difficult to set a price for such a "lifetime" purchase in such a way that will deliver fair value both to the customer and to Steinberg. In short, it is a much harder decision than the one to remove the player limit, and requires more thought and business planning. In the meantime, we hope that today's update demonstrates our commitment to deliver additional value on an on-going basis, and there is more to come.
Other changes and improvements
Dorico for iPad 1.1 also includes the following changes and improvements:
New scope controls in the Histogram editor for velocities allowing you to choose between editing the velocities of all notes in the track, only the active voice, or only the selected notes; a Reset button has also been added to allow you to reset velocities back to their defaults
When choosing a template on the Create New page of the Hub, if the template specifies a particular page or rastral size, the Page size and Rastral size controls will now show the appropriate values, and respect the Default paper size type preference (choosing either US or ISO2016 paper sizes as appropriate)
You can start a new project based on a template by double-tapping the template name in the Create New page of the Hub
You can now access the Dorico for iPad online help via the application menu on the toolbar
Added new Choir SAB with Piano template
The toolbar has been refined such that the application menu should always appear when the device is in landscape orientation
The Players and Layouts panels can now be scrolled with your finger without accidentally changing the selection
The Shift+I popover now appears in the Notations toolbox in the right zone in Write mode
Dorico now takes the state of the Extend Selection tool into account when extending the selection in the system track
The slur button in lower zone Keyboard panel toolbar is now a toggle
Transpose menu item now appears in the contextual menu when there is nothing selected, making it possible to transpose the whole flow easily
Requantize has been added to the contextual menu
Reset Position and Reset Appearance have been added to the contextual menu
The Edit Durations submenu has been added to the contextual menu, adding useful new capabilities for cleaning up music recorded in real time or imported via MIDI
If there's no suitable selection or caret location when you start real-time recording, Dorico will find one automatically, in the same way that we find a location for note input if there's no selection when you show the caret
If you start the app with your device in portrait orientation and you are not subscribed, the Subscribe button in the Hub will now correctly be hidden if you are not subscribed
When selecting an implicit rest in one layout and then switching to another layout, the implicit rest will now correctly remain selected
Deleting a signpost for an empty text item on a percussion kit now works correctly
When returning to the Create New page of the Hub after closing a project, the Solo category and Solo Piano template will now always be correctly selected
When signing in, Dorico now uses Steinberg's new identity provider; note that if you signed in using the previous version, you will encounter an error when signing out
If you start a project using the Empty template, you are no longer limited in the amount by which you can resize the lower panel after adding players to the project
Instructional text in the hands-on tutorials no longer collides with the Next/Previous buttons
Changing the orientation of the device while the text editor is open no longer causes Dorico to crash
Under some circumstances, Dorico could crash when playing back a flow that ends with a bar in open meter; this has now been fixed
The Bar numbers setting in the View Options dialog now correctly reflects the state in page view or galley view as appropriate
Under some circumstances, making a change in the Preferences dialog could cause problems with the appearance of the Layouts panel in Setup mode and the lower zone in Write mode; this has now been fixed as far as is practical. Any remaining problems can be solved by closing and reopening the current project
The minimum size of the drum pads in the lower zone has been increased and the appearance of the instrument and playing technique names has been improved to prevent them from running onto multiple lines
Multiple successive hyphens are now handled correctly in the lyrics popover
It is now possible to enter a name for a custom ensemble when saving one
Under some circumstances, Dorico could crash on exit after showing the Preferences dialog in the current session; this has now been fixed
Text entered into the popover is no longer automatically capitalised
When a popover offers automatic completion, the matches are now based only on the starts of the entered words
Section player string instruments should use the String section patch by default
It is now possible to create a repeat ending or additional ending when part of a slash region is selected, or when the caret is visible and there is no selection
When showing an AUv3 instrument or effect's interface, Dorico now switches automatically to Play mode and shows the device in the lower panel
Large time signatures now appear correctly once more
Improved default bar number and time signature settings in Film orchestra template
Improved support for entering Japanese text
A problem whereby changing the Set local properties toggle in the Properties panel toolbar did not correctly affect the properties being set has now been fixed
Changes to the way explicit rests in percussion kits are saved, to minimise the impact on how those rests will appear if you open that project in an earlier version of Dorico on the desktop (version 3.5 or earlier)
The Bar Number Change dialog now correctly accepts keyboard input
Options to import and export percussion kits and fretted instrument tunings have been temporarily removed while we consider better approaches to the file management of these kinds of library data
Removed music transformation commands for the time being; these will be reinstated when Dorico 4 is released later in the year
What's next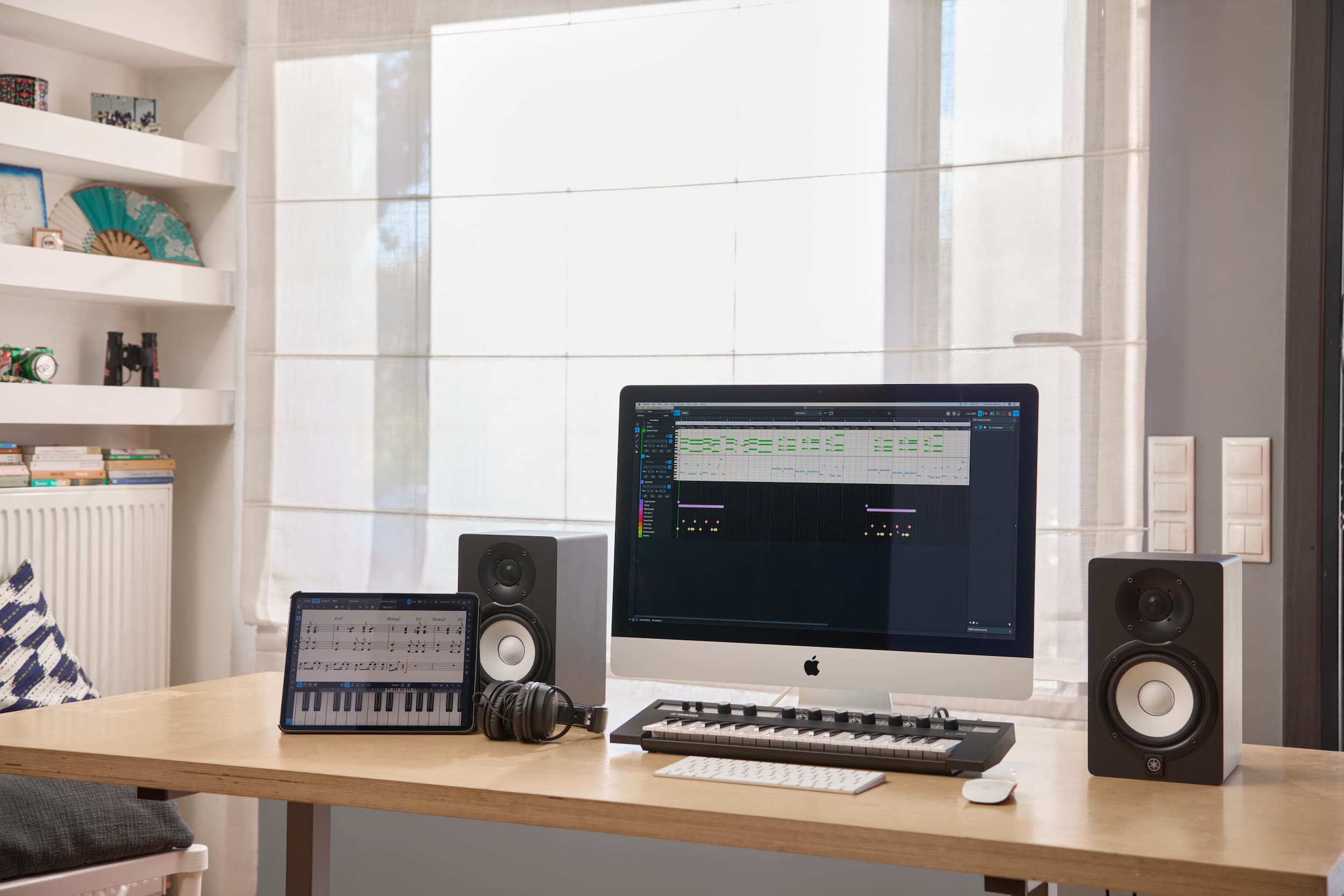 We are continuing to monitor the feedback we're receiving about Dorico for iPad, particularly now that it is possible for subscribers to edit projects with a larger number of players. We also of course have plans for further functionality to bring to the app, including greater support for the Apple Pencil. As we look towards the release of the next major version of Dorico for macOS and Windows later in the year, users of the iPad app can expect some of the new features that will be introduced in Dorico 4 to find their way into the iPad version, while users of Dorico for macOS and Windows can likewise look forward to being able to use the new Key Editor, the new Mixer, the on-screen instrument panels, the improved Write mode toolboxes, and the redesigned Hub in the desktop version.
If you are already using Dorico for iPad and would be willing to leave us a rating or review on the App Store, that would really help to make Dorico more visible to your fellow musicians in the App Store in your country. To leave a rating, open the App Store app on your iPad, and search for Dorico. Once you are looking at the app page, you will see five empty stars just waiting for you to tap on the one that you think best reflects your opinion of the quality and usefulness of the app. Please give us a rating, and if you can spare the time to write a review, that is even better and helps push the app in the search results on the store. If you do choose to leave a review, expect it to take a couple of days for it to pass content moderation before it appears. And whether you choose to rate the app, or to additionally review it: thank you for downloading it, and thank you especially for leaving it a rating or review. It really does make a difference.
We of course welcome your feedback however you would like to bring it to our attention. Feel free to leave a comment on this post, or to come and talk to us on our forum or on our Facebook group. We have been thrilled to see how so many thousands of people have already downloaded Dorico from the App Store and started using it. We hope you'll join them, if you haven't already.