This post is part of a series that aims to shine a light on projects in which Dorico has played a part. If you have used Dorico for something interesting and would like to be featured in this series, please let me know.
It might have seemed perverse even two years ago to celebrate an orchestra giving a performance in a full concert hall, but such has been the devastation to live music, particularly large-scale orchestral performances, throughout the Covid-19 pandemic, that as the arts world continues its slow and uncertain recovery from the most tumultuous couple of years in living memory, the fact that composer Austin Jaquith's composition Heldenleben 2020, celebrating the heroes of the pandemic, was performed by the Dayton Philharmonic Orchestra in the opening performances of their new season two weeks ago is definitely worth remarking upon.
Austin Jaquith is a composer who has worked widely in concert music and music for film, and who is also a professor of music theory and composition at Cedarville University. He kindly took some time out of his schedule to talk to me about developing Heldenleben 2020, and the role Dorico played in bringing this work to fruition.
DS: Heldenleben 2020 has the subtitle A Reflection on the Coronavirus Pandemic. When did you start work on this commission?
AJ: I began work on this piece in the summer of 2020. The first version, for chamber orchestra, was featured in a Dayton Philharmonic streaming concert later that fall. With distancing requirements, the numbers were pretty small: 2222/2200/timp/88643. Following the concert, the conductor, Neal Gittleman, asked if I'd be willing to do another version for large orchestra for their opening concert for the next season. This concert would feature the full range of the DPO. I was happy to do that! This premiere represents the live premiere of the work – a new category of premiere, perhaps.
DS: Your work quotes Richard Strauss's Ein Heldenleben, with which your new work shares its name. People generally believe that Strauss intended the "hero" of his work to be the composer himself – I imagine that's not exactly what you had in mind for this work depicting the heroes of the pandemic?
AJ: No, I completely inverted the original sense of the title from the Strauss. While Strauss was seeking to bring attention to his own prominence and stature, Heldenleben 2020 tilts in the opposite direction. I was struck in the pandemic how our sense of heroism was redefined relative to traditional and mythological heroes. Instead of a lone, powerful individual saving us by sacrificial acts of bravery, we had many heroes that put themselves on the line. A good number of us were fortunate to spend a comfortable, if not boring, time waiting out the various lockdown measures. However, many essential service workers became de facto heroes working in grocery stores, delivering us much needed supplies at home, caring for people in hospitals, and continuing to show up to work even when they had no idea to what extent the pandemic was going to cost them personally. Throughout the piece, there is constant interplay between the main motif in Strauss's work along with an idea that represents our modern heroes. Both portrayals of heroism are interwoven with another motif that represents the unseen adversary in the crises. The piece is dedicated to those unknown heroes who got us through the worst of the pandemic.
DS: The work was premiered a couple of weekends ago at the Benjamin & Marian Schuster Performing Arts Centre in Dayton, OH. How did it feel to be back in a concert hall with a full orchestra and a large audience?
AJ: In short, it was indescribable. The streaming concert from the previous fall was certainly very gratifying. I was still able to attend rehearsals in-person, and much of what I love about music happened in that performance. However, it was odd when it was all over to have zero reaction from any audience. It left one feeling a bit hollow, despite the thrill of hearing the orchestra play in the hall and working at a deep level with the musicians. The live performance was a decided contrast. It felt much more tangible to see other people in the seats in the hall, to watch them respond to the music as it played, and know that your friends and family were enjoying your work right now. It felt much more human.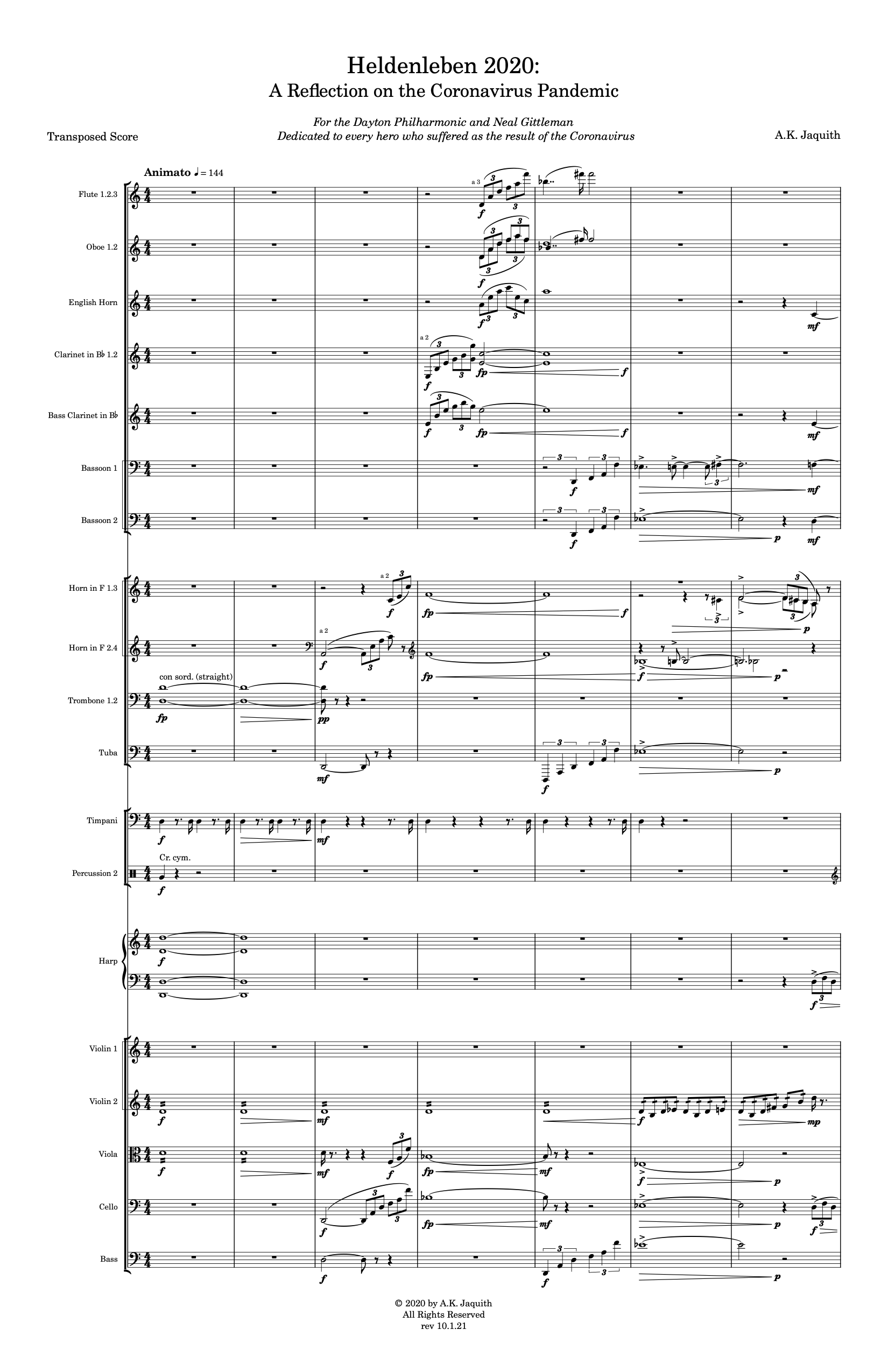 DS: You prepared the performance materials for Heldenleben 2020 in Dorico. Were any features of the software especially helpful as you worked on the score and parts?
AJ: Definitely. Starting with the composition process, I really like the flexibility that Dorico allows when routing external sound libraries in for a mock-up. I have a good number of the VSL libraries that I use for film scoring, and being able to plug them right into Dorico and control articulations with existing score markings is really helpful. For the score preparation, I relied extensively on the condensing feature to create custom arrangements of each instrument group in the score based on the amount of polyphony between the parts. Being able to easily regroup horns for instance is extremely helpful and makes for great visual results that in previous orchestra pieces I didn't bother with due to the overhead required. Creating parts is still a pleasure compared to some of the other programs I've used – although in the interest of full disclosure, my former student Landon Cina did a fair number of the part layouts for this large orchestra version. Easily cuing and generating good page turns with a couple keystrokes has really impressed me, and is one of the big reasons I'm such a Dorico supporter. And beyond all the fluency that the workflows in Dorico encourage, I absolutely love the look of the notation when it is all done.
DS: In addition to your work as a composer, you are Professor of Music Theory and Composition at Cedarville University in Cedarville, OH. How have you found teaching during the pandemic? Are things beginning to get back to normal for faculty and students at your institution?
AJ: It has definitely had its ups-and-downs, although I think I've had it better than some. We only did fully online classes about six weeks in total, so staying connected with the students wasn't as bad as it could have been. Motivation and morale were hard to maintain last year, even with in-person classes, but this year is a lot better. While we saw a bit of spike this year in early September with a lot of quarantines, it was short-lived, and we are now able to carry on (mostly) without impediment. I've been conducting a Renaissance choir this fall with a small group of our music students, and going back to normal types of rehearsals has been really good for everyone.
DS: What will you be working on next? Do you have any more commissions coming up?
AJ: Yes, I have several exciting upcoming projects. I'm composing another orchestra piece to be premiered in January with Peter Stafford Wilson and the Springfield Symphony Orchestra, and after that I'll be completing a large-scale cello sonata for Jonathan Lee, the principle cellist of the DPO. Then I'll need to finish up a ballet that was postponed for a couple of years for the Dayton Ballet, Sleepy Hollow. Things seem to be up and running again.
DS: Let us very much hope it stays that way! Thanks for taking the time to talk with me, Austin.
If you'd like to hear more about Heldenleben 2020, DPO principal conductor Neal Gittleman interviewed Austin as part of the DPO's pre-concert talk series, Take Note, and you can watch that interview on YouTube, embedded below.
To find out more about Austin himself, please visit his web site. And if you have been inspired by this story to work on your next orchestral piece but haven't yet experienced the powerful features that make producing performance materials quicker and easier than with any other software, please check out the 30-day trial version of Dorico Pro.