This post is part of a series that aims to shine a light on projects in which Dorico has played a part. If you have used Dorico for something interesting and would like to be featured in this series, please let me know.
A couple of weeks ago, the Teatro Nuovo Giovanni da Udine, a 1200-seat theatre in Udine, the capital city of the Friuli Venezia Giulia region of Italy, its north-easternmost region bordered by Austria to the north and Slovenia to the east, was bedecked with glitter balls and fireworks in a sold-out celebration of the music of Barry White and other disco artists. I caught up with musical director Denis Feletto to find out how he used Dorico to faithfully recreate the sounds of the 70s for this special event.
Denis holds master's degrees in piano, jazz and computer engineering, and he is a perfect example of the combination of skills needed for the multi-faceted life of the modern musician. Equally at home in the recording studio or on the stage, back in 2016 he was one of three arrangers working with Spandau Ballet front man Tony Hadley on a show that aimed to honour the music of Frank Sinatra, and wrote arrangements for the concert – titled That's Life – for the 50 piece orchestra assembled for the concert.
This project put him on the radar of the producer of Ceghedaccio, an annual celebration of disco music that has taken place in Udine since 1993. "It was his dream, for the 25th anniversary of the first event," Denis tells me, "to bring the music of the 60s, 70s and 80s to the theatre. Last summer, just a few months ago, I was asked to effectively start this project as musical director."
The first job was to design the Ceghedaccio Symphony Orchestra, the ensemble that would be convened to make the producer's dream a reality. The final instrumentation consisted of three vocalists, alto sax (doubling soprano sax), tenor sax (doubling clarinet), two trumpets (second trumpet doubling French horn), trombone, percussionist, and a 15-piece string section. This just left the small matter of producing a whole concert's worth of new arrangements. Denis has used Finale since 2002, and is very comfortable with that software, but for this project he chose Dorico.
"This was my first time using Dorico for such a huge project," he tells me. "I had a very tight schedule – just 60 days to arrange 18 songs, eight of which are medleys – and at the very beginning I was probably not an expert user of Dorico, but the choice turned out to be right."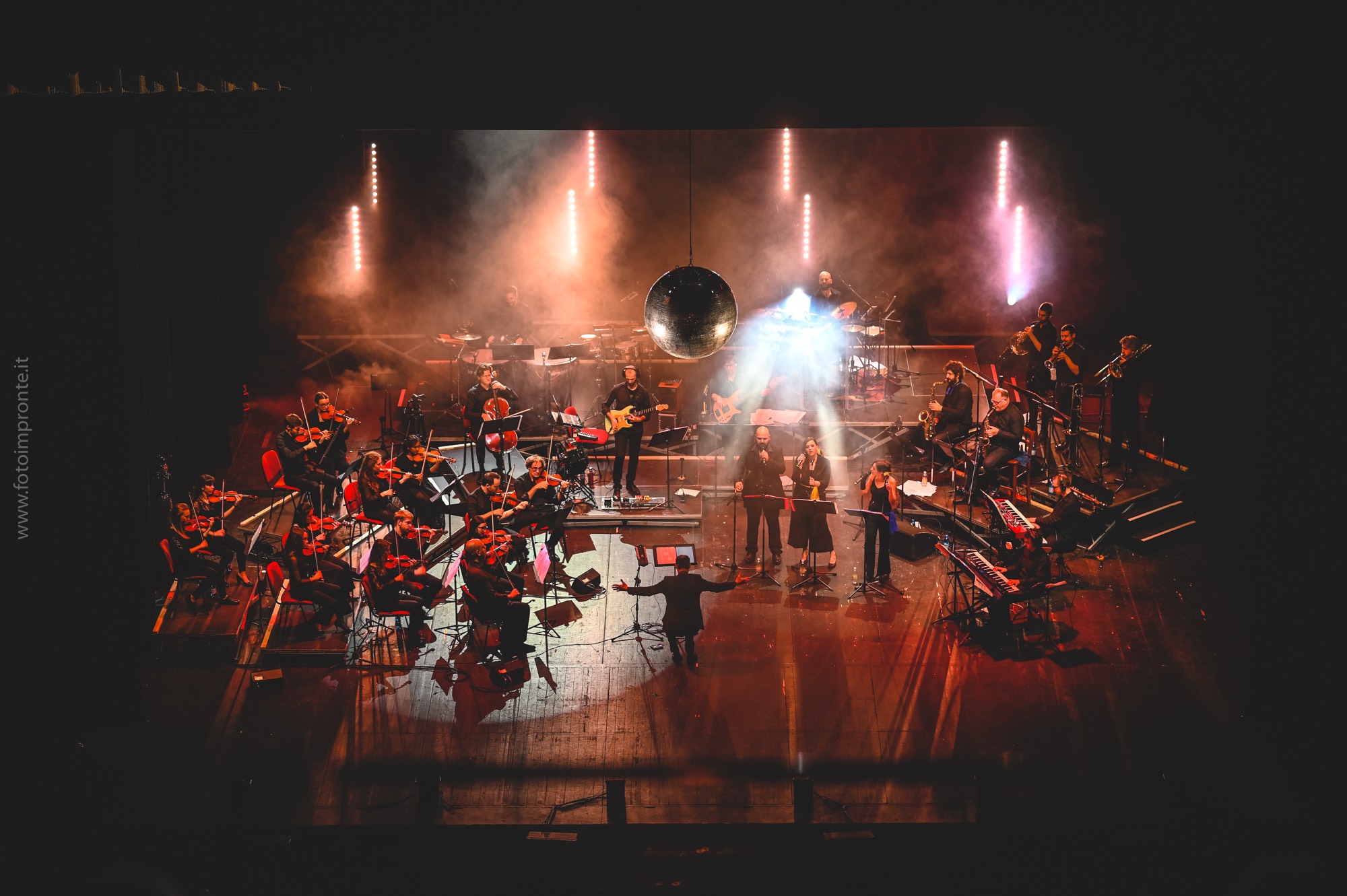 I asked Denis why he chose Dorico for this project, and he replied that there were many time-saving features in the program that helped him to meet his deadline.
"Flows are really helpful – choose the high-level parameters for Layout Options, Notation Options and Engraving Options, and they are instantly propagated to all of the flows. Master pages enable the production of consistent page layouts very quickly. For this project, with several doubling players, the ability to manage instrument changes flawlessly was also important – you have to do nothing more than inserting the notes!"
Denis quickly found that working with Dorico was very comfortable, and he told me that he particularly appreciated its time-saving features. "Dorico has a real intelligence to understand what you want to do, with popovers for almost everything you need. It provides many selection and filtering options, and tools for moving and copying music. It's fast and easy to navigate through the score, and the software is robust – it's rare for it to crash."
Denis says that the active user community around the software was also an asset. "The commitment of the online community to help fellow users is really special," he says, "and I was also able to get help from John Barron and the rest of the team when I needed it. Marco Bianchi, a great guitarist and arranger, worked with me on this project, and we were able to work closely just exchanging flows."
In the end, Denis was delighted with the quality of the results. "Dorico produces really great printed pages," he says, "and many musicians on the stage were surprised at just how good they looked."
With this concert behind him, Denis is looking forward to future projects. "Dorico is the best technical choice I made in the last five or ten years," he says, "regarding the increase of workflow speed, but also the control and the happiness in keeping creativity at the first place. I will surely continue using it, willing to discover all the possibilities it can give me."
Thanks very much to Denis for taking the time to talk to me about this project. You can find out more about Denis Feletto at his web site, read about the annual Caghedaccio event here, and if you've not yet taken the time to try Dorico for yourself, you can download a free, fully-functioning 30-day trial version of Dorico from our web site here.